The fifth edition of the PEROSH research conference took place on September 7-8 in Stockholm and began on September 6 with a networking dinner.
Around 160 researchers and stakeholders had gathered in the ABF building to share and be inspired by new research findings in the field of work environment. There was great interest in this year's conference and a record number of researchers had signed up to participate.
Anniversary celebration
PEROSH also celebrated 20 years and Nader Ahmadi, director general of the Swedish Agency for Work Environment Knowledge, welcomed the jubilee on Wednesday, followed by Paulina Brandberg (L), gender equality and deputy labor market minister who gave the opening speech for the jubilee.
Louis Laurent, Chairman of the Executive Committee, spoke about PEROSH today. The European network coordinates research and development efforts in occupational safety and health where 13 work environment institutes are represented.
After State Secretary Martin Andreasson's opening speech, there were nine main speakers on the conference program. Participants had a choice of 72 presentations on current European research. The conference had three themes;
work organization and work environment
occupational health and safety issues
new techniques for exposure and hazard identificationfuture issues.
Workplaces of the Future
This year's conference was largely about new technology, AI and the workplaces of the future. About the challenges ahead and how our work environment could be affected by the new technology.
– I feel happy and satisfied with this year's PEROSH conference and how fantastic it is that we have the opportunity to share research results between the countries. PEROSH is a source of knowledge about what is happening in the field of work environment in Europe and I think that many people took away new thoughts, ideas and inspiration from these days in Stockholm, says Nader Ahmadi.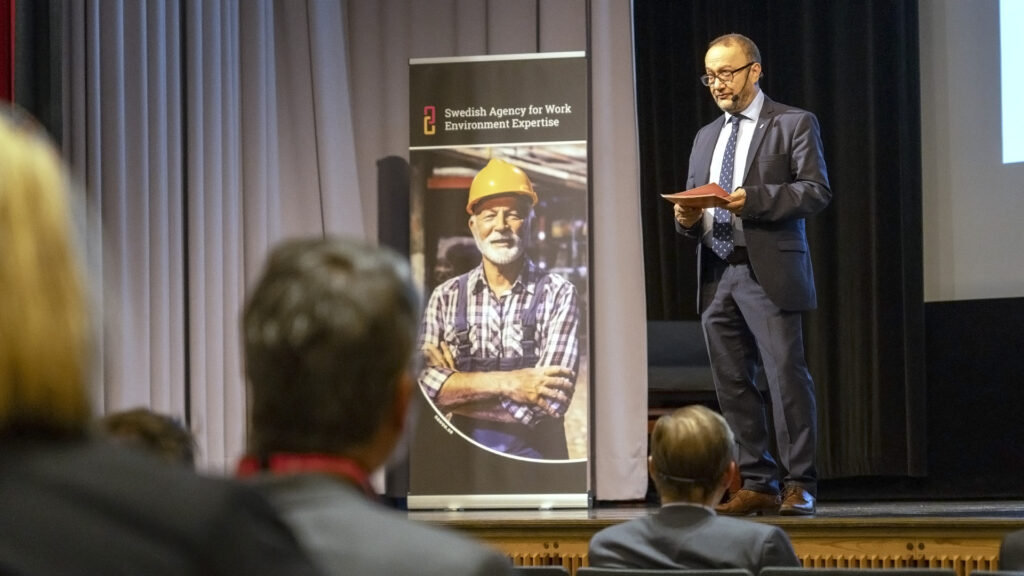 We Contributed With New Research
We from the authority also participated in the content of the conference. Johan Stenmark, process leading analyst, gave an overview of the international compiled research on, among other things, work-life balance before and during the pandemic. Maria Johansson, a researcher who worked with the Swedish Agency for Work Environment Knowledge, talked about how company size and work organization play a role in work environment work in Swedish business life.
Andreas Wallo, researcher from Linköping University, gave a lecture on managers' tasks and how important managers are in competence provision. Anders Wallo was part of the authority's report on managers' work environment during the pandemic.Lena Abrahamsson, Luleå University presented her research on the future work environment.
Exceeded Epectations
– PEROSH anniversary event to celebrate 20 years and the fifth research conference exceeded our expectations. We had more presentations on outstanding research than before and three excellent winners of the Research Award for Young Researchers. In addition, the presence of former PERSOH directors and other stakeholders of our institutes contributed to the success of this event, says Jan Michiel Meeuwsen, Head of International Affairs at PEROSH.